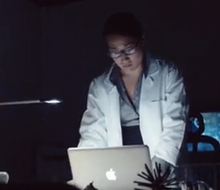 Dr. Rosen is a whitecoat working at the School who appears in the film adaptation of Maximum Ride.
She is seen behind a window, experimenting on Angel under Jeb's direction. Later, in the middle of the night, she enters an office and has a video call with an unseen woman whom she respectfully calls Madam. She hesitantly reports that Jeb may be compromised and too attached to the Flock.
She is portrayed by Tina Huang.
Ad blocker interference detected!
Wikia is a free-to-use site that makes money from advertising. We have a modified experience for viewers using ad blockers

Wikia is not accessible if you've made further modifications. Remove the custom ad blocker rule(s) and the page will load as expected.