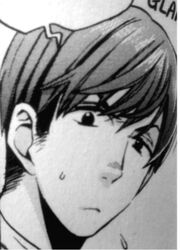 Jason is the name of the Flock's waiter while they ate at the Garden Tavern in New York in The Angel Experiment.
Appearance
Edit
Jason is described as being "A short, stocky waiter with slicked-back red hair".
Suspicions of the Flock
Edit
Jason seemed to have his first suspicions when Max admitted that the Flock were ordering without the supervision of parents, and again when the Flock ordered vast quantities of food. Despite her offer to pay first, Jason redirects them to the manager, who refuses to serve them. As they crash the restaurant, Gazzy throws food on him as they ascend above and out of sight.
Please help add to this section.
Ad blocker interference detected!
Wikia is a free-to-use site that makes money from advertising. We have a modified experience for viewers using ad blockers

Wikia is not accessible if you've made further modifications. Remove the custom ad blocker rule(s) and the page will load as expected.