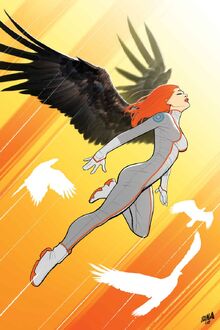 Max Ride: Final Flight will be the third arc of the Marvel Comics adaptation of Maximum Ride, following up from First Flight and Ultimate Flight. It was first announced at the end of Ultimate Flight #5.
The first of the five issues will be published in September 2016. Jody Houser will continue as writer, and Marco Failla will replace RB Silva as artist.
References
Edit
Ad blocker interference detected!
Wikia is a free-to-use site that makes money from advertising. We have a modified experience for viewers using ad blockers

Wikia is not accessible if you've made further modifications. Remove the custom ad blocker rule(s) and the page will load as expected.