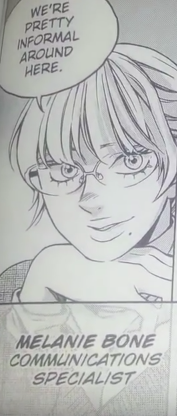 Melanie Bone is one of the crew members of the Wendy K. in The Final Warning. However, she is not seen in any other books.
Appearance
Edit
She is described as having "the sun-streaked, tan look of someone who spent a lot of time outdoors."
When she was first introduced, it was revealed that she was the communications specialist.
Ad blocker interference detected!
Wikia is a free-to-use site that makes money from advertising. We have a modified experience for viewers using ad blockers

Wikia is not accessible if you've made further modifications. Remove the custom ad blocker rule(s) and the page will load as expected.