| | |
| --- | --- |
| | Angel needs your help! |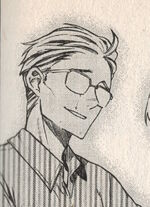 Tom Griffiths is Iggy's father and the husband of Mrs. Griffiths. His only appearances are in School's Out - Forever and the fourth manga volume.
After the disappearance of his infant son, he hired detectives to search for him, but they found no clues. Max first sees them on TV, with Tom standing with his arm around his wife's shoulders. When the Flock brings Iggy back, Mr. Griffiths says that Iggy looks the same as he did when he was a baby. Like his wife, he is immediately convinced that Iggy is his son and gets very emotional. He asks who the Flock was, and he and his wife both look concerned when they hear that they had suffered the same fate as Iggy.
Appearance
Edit
Although Iggy bore a closer resemblance to his mother, his nose and mouth looked like his father's.
The Griffiths act in a similar way to the Flock's parents in The Lake House; they have an emotional reunion with their children, but soon begin to use them for money and media attention, until the Flock leaves. The parents of Iggy's analogue, Icarus, are called Mr. and Mrs. Stern.
Ad blocker interference detected!
Wikia is a free-to-use site that makes money from advertising. We have a modified experience for viewers using ad blockers

Wikia is not accessible if you've made further modifications. Remove the custom ad blocker rule(s) and the page will load as expected.