Uh.....hi everyone,
So this is a blog post and I have no idea what it should be about but maybe you could just listen to me talk randomly for a while. Would that work? Oh, and if you want, I could post my story on this blog. It really all depends on if I can get someone to edit it or not. I know what I should do! So, every blog post, I pretend to be someone different, like this one I could be Fnag and then next one I could be Angel or Total and so on. Sound good? Good. Let's get started then, shall we? Okay:
Angel
Hi friends!!!
This is Angel speaking. Total and Celeste say hi too!!! So, I just wanted to say hi to everyone out there and wish them a happy birthday to anyone who has one today. Happy birthday!!!!! Yesterday, Max said I had to go to my room because she needed the living room for something. I tried to read her mind but I decided not too. Reading Max's mind has scarred my brain forever. So, I colored a picture that I think you guys should see. Tell me if you like it!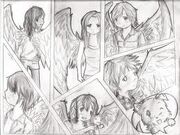 Isn't it adorable? It's comic strip of all of us! I think I did pretty good, if I do say so myself. If you like it, then you can just give me a smiley face!!!!
Smiles to everyone!!!!
Shadow Lyall 13:05, March 29, 2012 (UTC)Angel Ride :)
Ad blocker interference detected!
Wikia is a free-to-use site that makes money from advertising. We have a modified experience for viewers using ad blockers

Wikia is not accessible if you've made further modifications. Remove the custom ad blocker rule(s) and the page will load as expected.